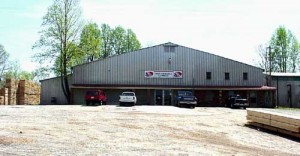 Since 1954, Max Kendall Lumber and Tin has been serving the customers of Virginia and North Carolina with the best service and prices on lumber, tin, and accessories. We began in 1954 as a small sawmill and over the past 60 plus years have grown into one of our areas largest building supply businesses. We have always been a lumber company that specialized in rough cut lumber that is hard to find these days. We also have a full line of dressed lumber, treated lumber, and treated post, having always been a huge supplier to local residents and farmers for framing and building. Over the past 60 years we have sold hundreds and hundreds of pole barns to the local farmers to keep their farms high and dry. We appreciate their business and over the years as we have served them, we have continued to grow as a company.
As metal roofing became a demand for local farmers in the 1970's, we began to sell metal roofing and that branch of our business quickly became one of our best sellers. We continued to expand in the retail of Metal roofing with the changing times. Painted Metal Roofing became more and more popular with farming and grew rapidly into residential applications. In 2010, we made our biggest expansion in over 30 years when we put in a complete metal roofing manufacturing plant at our Axton location. We began to roll-form metal roofing and installed custom trim machines to provide custom trim for any job application. Our turn around time on Metal roofing orders went from the resale standard of one to two weeks  to next day service which is still unmatched by our competition.
At Max Kendall Lumber and Tin we take pride in what we sell. Every sheet of roofing that leaves our plant is 100% American Made. We offer only the best paint systems available on the market with a 40 year warranty. At Max Kendall Lumber we are not a mail order house. We have one of the largest inventory's of Metal Roofing and accessories in the United States. We stock a full line of roofing coils and every color along with matching screws and accessories for any application on the job site. Simply put we have the materials and accessories ready for our customers to get their job done!! We are committed to manufacturing a quality American Made product that will last with the fastest turn around time in the business.
Thanks to our great customers, we have continued to expand in Metal Roofing since 2010. In 2011 we introduced Standing Seam roofing into our product line. In March 2014 we  opened our third panel line and roll-form R-Panel. In August of 2017 Max Kendall Lumber made our biggest expansion to date. We built a state of the art Metal Roofing manufacturing facility in Rustburg (Lynchburg) Virginia and a separate warehouse just to store our lumber products.
We take pride in knowing we are offering the best products, best service and most of all the best price. As a direct manufacturer of Metal Roofing, in 2010 when we began to manufacture our product instead of buying for resale. We cut our price 30% which allowed us to pass the savings to our customers. We are still committed to that same idea of service. We will meet or beat anyone's price on Metal Roofing. Whether you are an experienced contractor or a "do it yourself" homeowner, our knowledgeable staff is ready to help you get the products and service you need. We now have FOUR locations to serve our customers in Virginia and North Carolina with one to two day service at our branch locations. Axton, VA (Main Office) – Lynchburg, VA  – Danville, VA – Reidsville, NC –